Advocis Vancouver Luncheon with Simon Reilly
Location:
Terminal City Club, 837 West Hastings Street, Vancouver, BC, V6C 1B6
Date:
Friday, February 21, 2020 -

11:30am

-

1:30pm
---
What is your greatest asset? It's not money, time or energy... It's your consciousness!
Whether on paper or in your head, business people who don't have a business plan keep going over the same to-do lists over and over again. This sucks up valuable time and energy, and can stop you from making decisions about what to do next.
Do you have too many scattered ideas?
Do you need to focus on the important things?
Do you need to jumpstart your business right now?
Do you have no time or interest in writing a 50-page business plan?
Do you need to determine if you're focusing on the right things?
Do you need an effective blueprint to keep yourself and team focused?
The One Page Business Plan can help you to organize your best thought leading ideas into five areas, and help you answer these key questions once and for all:
Vision - What are you building?
Mission - Why does this business exist?
Objectives - What result will we measure?
Strategies - How will we build this company?
Action Plans - What it the work to be done?
Purpose - How are you going to be?
Join Simon Reilly in his presentation to learn about the One Page Business Plan. It can help you to write a clear, concise, and understandable plan, using key words and short phrases in the fastest and simplest way possible.
---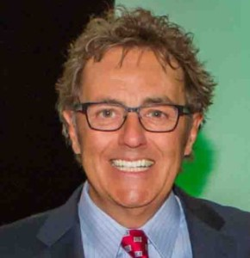 Simon Reilly is an international values and behavioral analyst, business coach, speaker, and author. He has decades of experience working exclusively with financial services professionals. He combines extensive research and study in the areas of values and behavioral analysis; inspiration and motivation; leadership; change management; vision and business planning; team building; and sales and marketing.
His coaching, webinars and workshops help financial services professionals and their teams reach and exceed their goals in any economic climate.
Simon goes beyond the mechanics of success when working with clients, pulling back the curtain and allowing clients to really understand what holds them back from realizing their goals. His insights help his clients identify their unmet needs and release their self-sabotaging beliefs and emotions, so that they can reach the levels of success they dream of. Simon has written two books, "The Inspirational Tipping Point" and "Curing the Unmet Needs Disease."
Having spoken at hundreds of conferences and webinars for financial professionals, thousands of people across Canada and the USA have benefited from his expertise. He is an Advocis, GAMA LAMP, MDRT, NAIFA, TEDx and WIFS speaker. Simon is also a member of Advocis, FPA, GAMA International, NAIFA, and WIFS.
Simon is the Founder of Leading Advisor Inc., supported by his spouse Laura, the Chief Inspirational Officer; Amie Flowerday, Customer Service Coordinator; Deanne McAndrews, Content Co-Creator; Barry Ochsner, IT / Web Master; and Susan Pederson, Administrative Assistant.
---
Event Details
Date
Friday, February 21, 2020


Time
11:30 AM – 1:30 PM


Venue

Terminal City Club
837 West Hastings Street
Vancouver, BC V6C 1B6
Map



Prices
Members: $59.00
Non-Members: $75.00

(plus GST)

You can also register by calling 1-877-773-6765

Events Pass holders: please contact the office to be registered.


Please register by Wednesday, February 19 at 4:30 PM.
CANCELLATION POLICY
For a refund please provide 48 hours cancellation notice by emailing info@advocisvancouver.ca No shows will be billed unless 48 hours cancellation notice is given.


NOTICE OF FILMING AND PHOTOGRAPHY
When you enter an Advocis Greater Vancouver event or program, you enter an area where photography, audio, and video recording may occur. By entering the event premises, you consent to interview(s), photography, audio recording, video recording and its/their release, publication, exhibition, or reproduction to be used for news, web casts, promotional purposes, telecasts, advertising, inclusion on websites, social media, or any other purpose by Advocis. Images, photos and/or videos may be used to promote similar Advocis events in the future, highlight the event and exhibit the capabilities of Advocis. You release Advocis, its officers and employees, and each and all persons involved from any liability connected with the taking, recording, digitizing, or publication and use of interviews, photographs, computer images, video and/or or sound recordings. By entering the event premises, you waive all rights you may have to any claims for payment or royalties in connection with any use, exhibition, streaming, web casting, televising, or other publication of these materials, regardless of the purpose or sponsoring of such use, exhibiting, broadcasting, web casting, or other publication irrespective of whether a fee for admission or sponsorship is charged. You also waive any right to inspect or approve any photo, video, or audio recording taken by Advocis or the person or entity designated to do so by Advocis. You have been fully informed of your consent, waiver of liability, and release before entering the event.
---

Thank you to our Annual Sponsors
Platinum Sponsors
Gold Sponsor
Silver Sponsor
---